Notice: A non well formed numeric value encountered in /home/berta/www/ab3d.berta.me/_api_app/app/Shared/ImageHelpers.php on line 277

Notice: A non well formed numeric value encountered in /home/berta/www/ab3d.berta.me/_api_app/app/Shared/ImageHelpers.php on line 278

Notice: A non well formed numeric value encountered in /home/berta/www/ab3d.berta.me/_api_app/app/Shared/ImageHelpers.php on line 69

Notice: A non well formed numeric value encountered in /home/berta/www/ab3d.berta.me/_api_app/app/Shared/ImageHelpers.php on line 277

Notice: A non well formed numeric value encountered in /home/berta/www/ab3d.berta.me/_api_app/app/Shared/ImageHelpers.php on line 278

Notice: A non well formed numeric value encountered in /home/berta/www/ab3d.berta.me/_api_app/app/Shared/ImageHelpers.php on line 277

Notice: A non well formed numeric value encountered in /home/berta/www/ab3d.berta.me/_api_app/app/Shared/ImageHelpers.php on line 278

Notice: A non well formed numeric value encountered in /home/berta/www/ab3d.berta.me/_api_app/app/Shared/ImageHelpers.php on line 69

Notice: A non well formed numeric value encountered in /home/berta/www/ab3d.berta.me/_api_app/app/Shared/ImageHelpers.php on line 277

Notice: A non well formed numeric value encountered in /home/berta/www/ab3d.berta.me/_api_app/app/Shared/ImageHelpers.php on line 278

Notice: A non well formed numeric value encountered in /home/berta/www/ab3d.berta.me/_api_app/app/Shared/ImageHelpers.php on line 277

Notice: A non well formed numeric value encountered in /home/berta/www/ab3d.berta.me/_api_app/app/Shared/ImageHelpers.php on line 278

Notice: A non well formed numeric value encountered in /home/berta/www/ab3d.berta.me/_api_app/app/Shared/ImageHelpers.php on line 69

Notice: A non well formed numeric value encountered in /home/berta/www/ab3d.berta.me/_api_app/app/Shared/ImageHelpers.php on line 277

Notice: A non well formed numeric value encountered in /home/berta/www/ab3d.berta.me/_api_app/app/Shared/ImageHelpers.php on line 278

Notice: A non well formed numeric value encountered in /home/berta/www/ab3d.berta.me/_api_app/app/Shared/ImageHelpers.php on line 277

Notice: A non well formed numeric value encountered in /home/berta/www/ab3d.berta.me/_api_app/app/Shared/ImageHelpers.php on line 278

Notice: A non well formed numeric value encountered in /home/berta/www/ab3d.berta.me/_api_app/app/Shared/ImageHelpers.php on line 69

Notice: A non well formed numeric value encountered in /home/berta/www/ab3d.berta.me/_api_app/app/Shared/ImageHelpers.php on line 277

Notice: A non well formed numeric value encountered in /home/berta/www/ab3d.berta.me/_api_app/app/Shared/ImageHelpers.php on line 278

Notice: A non well formed numeric value encountered in /home/berta/www/ab3d.berta.me/_api_app/app/Shared/ImageHelpers.php on line 277

Notice: A non well formed numeric value encountered in /home/berta/www/ab3d.berta.me/_api_app/app/Shared/ImageHelpers.php on line 278

Notice: A non well formed numeric value encountered in /home/berta/www/ab3d.berta.me/_api_app/app/Shared/ImageHelpers.php on line 69

Notice: A non well formed numeric value encountered in /home/berta/www/ab3d.berta.me/_api_app/app/Shared/ImageHelpers.php on line 277

Notice: A non well formed numeric value encountered in /home/berta/www/ab3d.berta.me/_api_app/app/Shared/ImageHelpers.php on line 278

Notice: A non well formed numeric value encountered in /home/berta/www/ab3d.berta.me/_api_app/app/Shared/ImageHelpers.php on line 277

Notice: A non well formed numeric value encountered in /home/berta/www/ab3d.berta.me/_api_app/app/Shared/ImageHelpers.php on line 278

Notice: A non well formed numeric value encountered in /home/berta/www/ab3d.berta.me/_api_app/app/Shared/ImageHelpers.php on line 69

Notice: A non well formed numeric value encountered in /home/berta/www/ab3d.berta.me/_api_app/app/Shared/ImageHelpers.php on line 277

Notice: A non well formed numeric value encountered in /home/berta/www/ab3d.berta.me/_api_app/app/Shared/ImageHelpers.php on line 278

Notice: A non well formed numeric value encountered in /home/berta/www/ab3d.berta.me/_api_app/app/Shared/ImageHelpers.php on line 277

Notice: A non well formed numeric value encountered in /home/berta/www/ab3d.berta.me/_api_app/app/Shared/ImageHelpers.php on line 278

Notice: A non well formed numeric value encountered in /home/berta/www/ab3d.berta.me/_api_app/app/Shared/ImageHelpers.php on line 69

Notice: A non well formed numeric value encountered in /home/berta/www/ab3d.berta.me/_api_app/app/Shared/ImageHelpers.php on line 277

Notice: A non well formed numeric value encountered in /home/berta/www/ab3d.berta.me/_api_app/app/Shared/ImageHelpers.php on line 278
HOUSING COMPLEX IN JURMALA, JASMINU STREET
Residential housing complex, consisting of several three storey buildings joined together with underground parking.
Team: J. Mitenbergs, G. Priede, U. Tučs, M. Kulitāne.
Location: Jurmala, Jasminu street 10
Status: Completed
Floor area: 4630 m²
Site area: 5000 m²
Year: 2014 - 2017
Awards: The Plan award 2018 shorlisted (category: housing)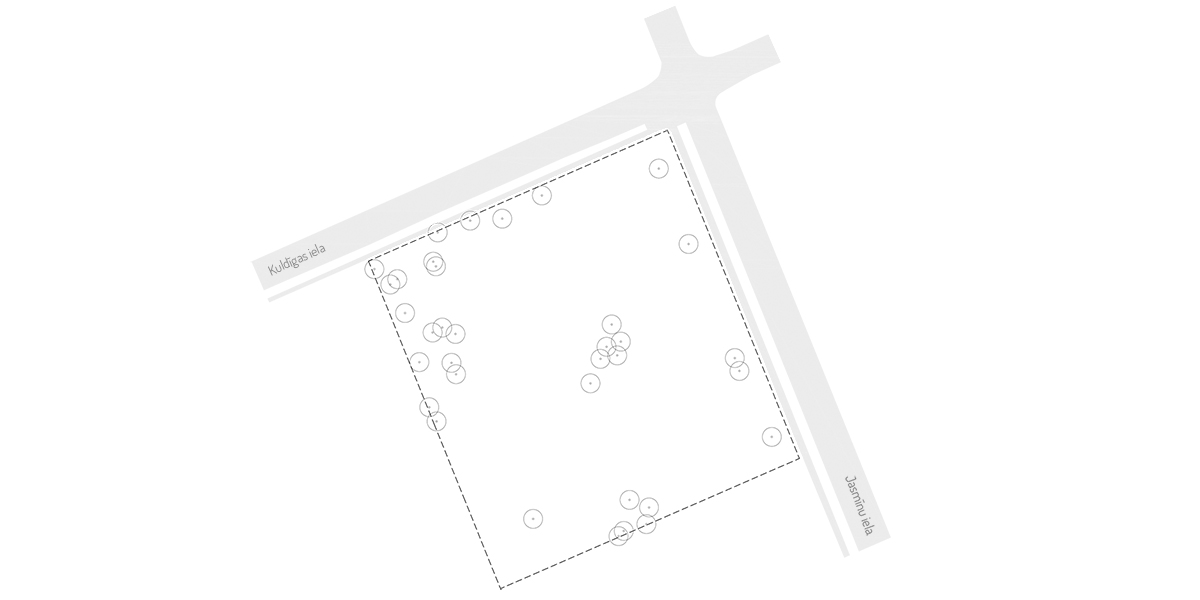 Housing complex "Jasmine garden" is located on a previously unbuilt site with many valuable pine trees, common in a near-sea landscape. In order to preserve the trees and make the buildings proportional with the surrounding buildings, the volume was split into four smaller units, which are connected by underground parking and storage units. The landscape was also created respecting the trees, so the paths and terraces are delicately placed between the pines.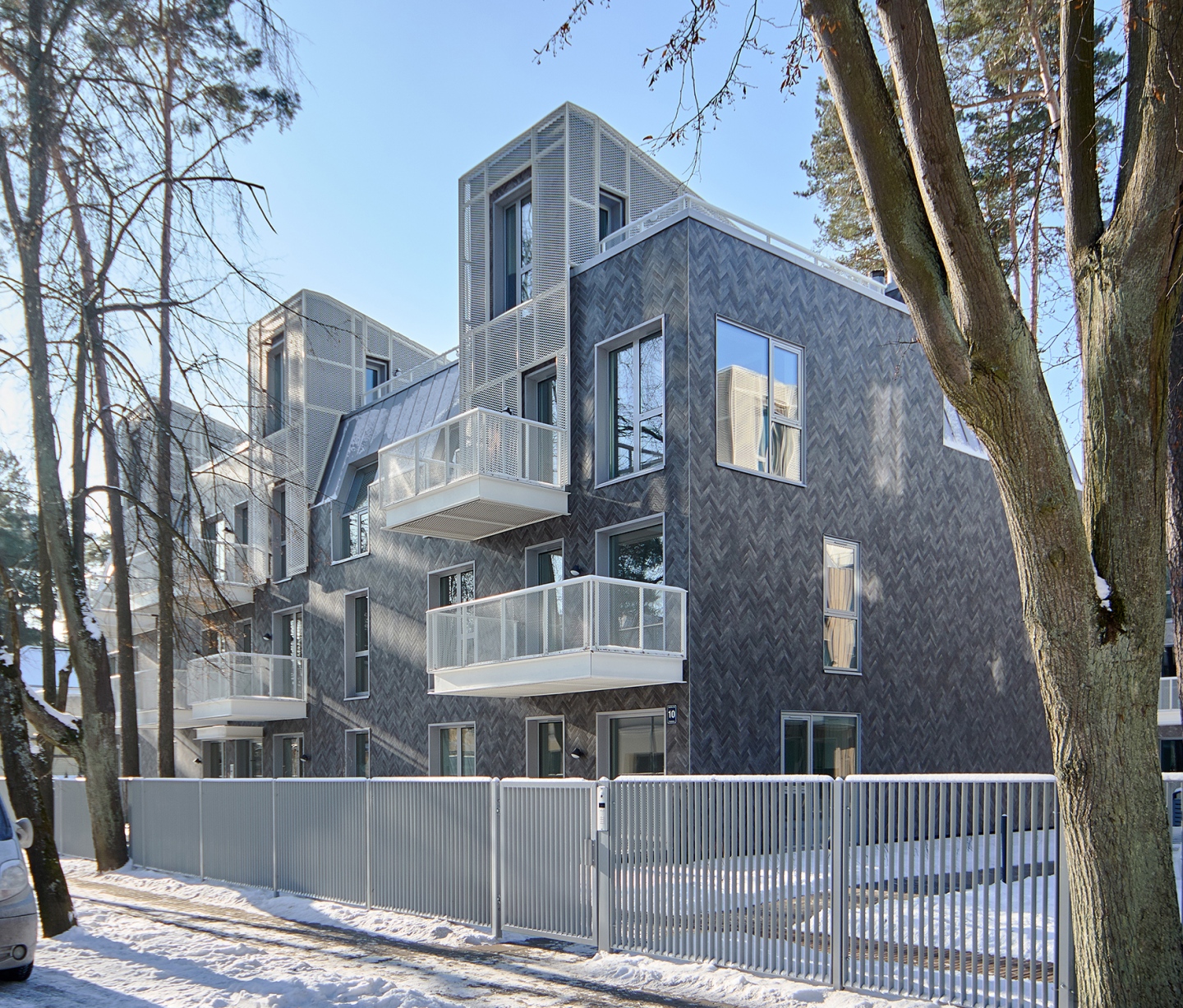 The four volumes has diferent external finishes. Two of the volumes are covered with tiles, the other two - with wooden planking. The unifying element are white metal elements used for railing of balconies and roof extentions.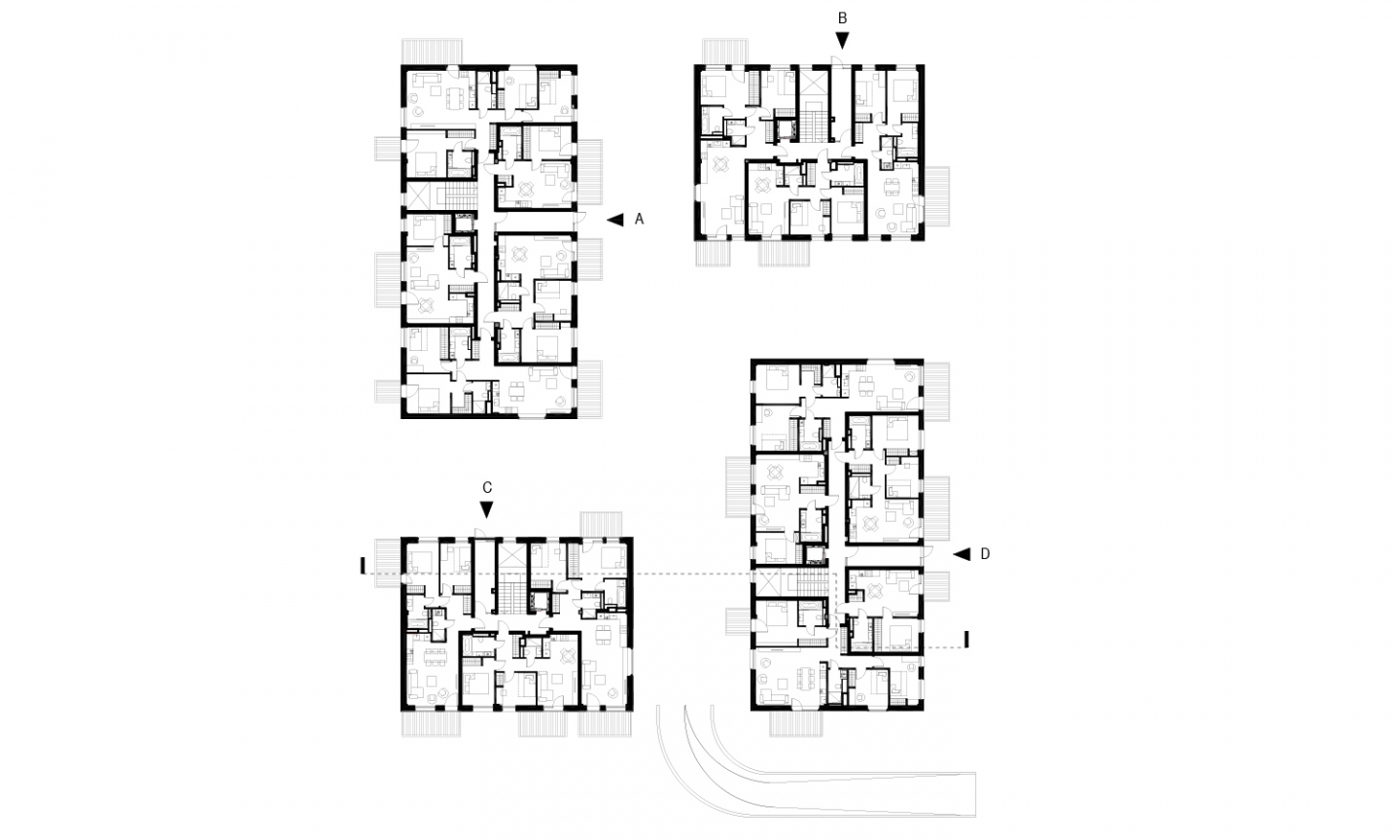 The plans for apartments are rational yet well-considered - apartment size varies from 44 m2 two room apartments till 88 m2 four room apartments. Every apartment offers a view to either two or three sides, providing sunlight throughoutthe day. A balcony or a terrace is provided for every housing unit. Upper storey apartments have their own private roof terraces with a direct exit from the apartment.