Notice: A non well formed numeric value encountered in /home/berta/www/ab3d.berta.me/_api_app/app/Shared/ImageHelpers.php on line 277

Notice: A non well formed numeric value encountered in /home/berta/www/ab3d.berta.me/_api_app/app/Shared/ImageHelpers.php on line 278

Notice: A non well formed numeric value encountered in /home/berta/www/ab3d.berta.me/_api_app/app/Shared/ImageHelpers.php on line 69

Notice: A non well formed numeric value encountered in /home/berta/www/ab3d.berta.me/_api_app/app/Shared/ImageHelpers.php on line 277

Notice: A non well formed numeric value encountered in /home/berta/www/ab3d.berta.me/_api_app/app/Shared/ImageHelpers.php on line 278

Notice: A non well formed numeric value encountered in /home/berta/www/ab3d.berta.me/_api_app/app/Shared/ImageHelpers.php on line 277

Notice: A non well formed numeric value encountered in /home/berta/www/ab3d.berta.me/_api_app/app/Shared/ImageHelpers.php on line 278

Notice: A non well formed numeric value encountered in /home/berta/www/ab3d.berta.me/_api_app/app/Shared/ImageHelpers.php on line 69

Notice: A non well formed numeric value encountered in /home/berta/www/ab3d.berta.me/_api_app/app/Shared/ImageHelpers.php on line 277

Notice: A non well formed numeric value encountered in /home/berta/www/ab3d.berta.me/_api_app/app/Shared/ImageHelpers.php on line 278

Notice: A non well formed numeric value encountered in /home/berta/www/ab3d.berta.me/_api_app/app/Shared/ImageHelpers.php on line 277

Notice: A non well formed numeric value encountered in /home/berta/www/ab3d.berta.me/_api_app/app/Shared/ImageHelpers.php on line 278

Notice: A non well formed numeric value encountered in /home/berta/www/ab3d.berta.me/_api_app/app/Shared/ImageHelpers.php on line 69

Notice: A non well formed numeric value encountered in /home/berta/www/ab3d.berta.me/_api_app/app/Shared/ImageHelpers.php on line 277

Notice: A non well formed numeric value encountered in /home/berta/www/ab3d.berta.me/_api_app/app/Shared/ImageHelpers.php on line 278

Notice: A non well formed numeric value encountered in /home/berta/www/ab3d.berta.me/_api_app/app/Shared/ImageHelpers.php on line 277

Notice: A non well formed numeric value encountered in /home/berta/www/ab3d.berta.me/_api_app/app/Shared/ImageHelpers.php on line 278

Notice: A non well formed numeric value encountered in /home/berta/www/ab3d.berta.me/_api_app/app/Shared/ImageHelpers.php on line 69

Notice: A non well formed numeric value encountered in /home/berta/www/ab3d.berta.me/_api_app/app/Shared/ImageHelpers.php on line 277

Notice: A non well formed numeric value encountered in /home/berta/www/ab3d.berta.me/_api_app/app/Shared/ImageHelpers.php on line 278

Notice: A non well formed numeric value encountered in /home/berta/www/ab3d.berta.me/_api_app/app/Shared/ImageHelpers.php on line 277

Notice: A non well formed numeric value encountered in /home/berta/www/ab3d.berta.me/_api_app/app/Shared/ImageHelpers.php on line 278

Notice: A non well formed numeric value encountered in /home/berta/www/ab3d.berta.me/_api_app/app/Shared/ImageHelpers.php on line 69

Notice: A non well formed numeric value encountered in /home/berta/www/ab3d.berta.me/_api_app/app/Shared/ImageHelpers.php on line 277

Notice: A non well formed numeric value encountered in /home/berta/www/ab3d.berta.me/_api_app/app/Shared/ImageHelpers.php on line 278

Notice: A non well formed numeric value encountered in /home/berta/www/ab3d.berta.me/_api_app/app/Shared/ImageHelpers.php on line 277

Notice: A non well formed numeric value encountered in /home/berta/www/ab3d.berta.me/_api_app/app/Shared/ImageHelpers.php on line 278

Notice: A non well formed numeric value encountered in /home/berta/www/ab3d.berta.me/_api_app/app/Shared/ImageHelpers.php on line 69

Notice: A non well formed numeric value encountered in /home/berta/www/ab3d.berta.me/_api_app/app/Shared/ImageHelpers.php on line 277

Notice: A non well formed numeric value encountered in /home/berta/www/ab3d.berta.me/_api_app/app/Shared/ImageHelpers.php on line 278

Notice: A non well formed numeric value encountered in /home/berta/www/ab3d.berta.me/_api_app/app/Shared/ImageHelpers.php on line 277

Notice: A non well formed numeric value encountered in /home/berta/www/ab3d.berta.me/_api_app/app/Shared/ImageHelpers.php on line 278

Notice: A non well formed numeric value encountered in /home/berta/www/ab3d.berta.me/_api_app/app/Shared/ImageHelpers.php on line 69

Notice: A non well formed numeric value encountered in /home/berta/www/ab3d.berta.me/_api_app/app/Shared/ImageHelpers.php on line 277

Notice: A non well formed numeric value encountered in /home/berta/www/ab3d.berta.me/_api_app/app/Shared/ImageHelpers.php on line 278
OFFICE COMPLEX IN A FORMER BREWERY IN RIGA
Proposal for rebuilding former brewery complex into modern office center.
Team: J. Mitenbergs, V. Dzenis, M. Kulitāne, K. Priede.
Location: Riga, Maskavas street 239
Status: Technical project | ongoing
Floor area: 25990 m2
Site area: 19180 m2
Year: 2016 - 2019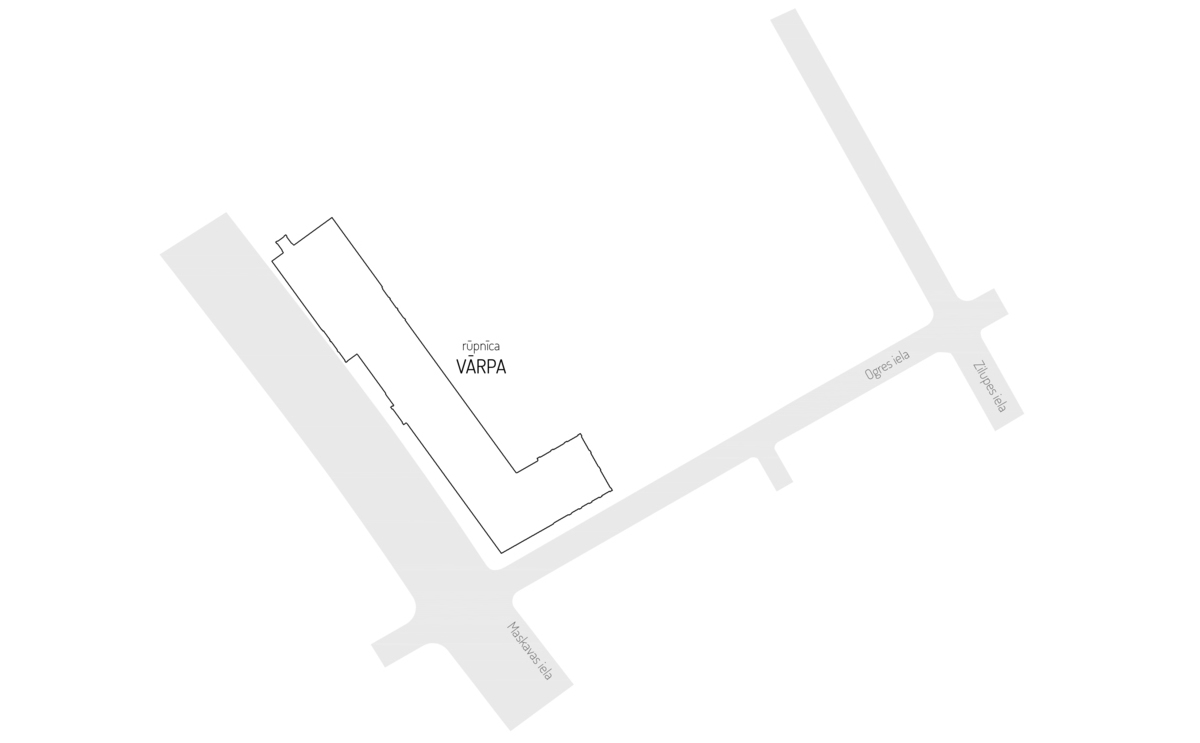 The project proposes a transformation for a territory of a former brewery "Varpa" into a modern office complex with commercial spaces on the first floors. The development of the site is planned in stages. The first stage would be rebuilding the historic building, making it into a placeholder for the whole complex. The second and third stage proposes new volumes with higher building intensity further into the territory - behind the historical building.